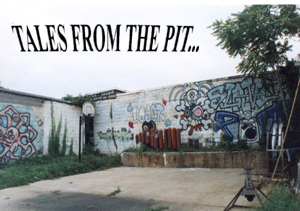 SLAVE PIT STUDIOS
It's sad to say that the Slave Pit is re-locating so for now we really don't have a studio, just a lot of stuff in boxes. But I'm gonna leave this up because the site isn't all that big and it needs everything it can get.
Yes, it looks like a crackhouse. Yes, it's true the new owners are members of a shadowy terrorist group that is planning on making this place into a bomb factory. But that won't stop the ROCK! Over the years we have spent touring and making albums with GWAR, X-Cops, and others, we've taken every opportunity to steal any gear we could get our hands on, in the hopes that we could one day own our own studio (full of other peoples stuff). Now that (and has been, actually) is a reality and the fabric of our universe shall be (was) forever changed!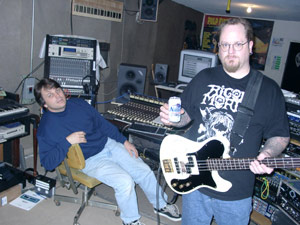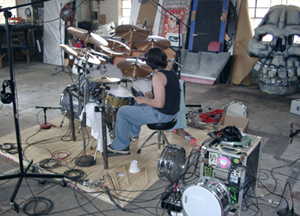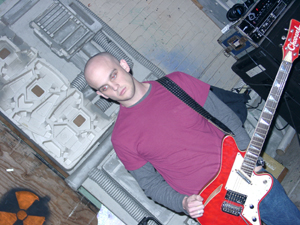 Slave Pit Studios is the low-cost high-quality solution to your recording needs! We have sacrificed any conceivable comforts (well actually there never were any) and focused on one thing--the music! Track with pros who have been-there done-that...well,....a lot! If you want to know how good this place sounds just listen to the new GWAR album--it rocks!

Some of the other bands to work here include:
GWAR (oh, I said that already)
DBX
Lamb of God
Disarray
Deist
Nehema
No Deal
The Ghost Busters
Upcoming projects include Lazy American Workers and the new DBX album.
We work in a digital format and we like to drink beer. Bands crash out on the floor and
we guarantee you that for the money you will not find a better combination of gear, expertise, and dedication.
Plus the members of GWAR will not only talk to you, they will help you record your band.
SLAVE PIT STUDIOS, where every project features--
1) Dead rats in the wall stinking up the place.
2) Dangerous neighborhood full of crackheads.
3) Weird artists vibing you out.
4) Coffee filters instead of toilet paper.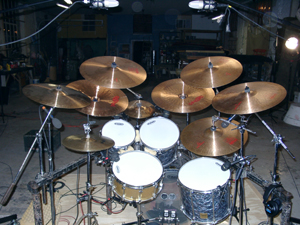 Here's something fun. This is Jizmak's drum kit. Ever wanted to be in GWAR? No?
Well, can't say that I blame you. But if you do, try this. Put on your favorite GWAR song.
Don't have one? Can't say that I blame you. Now go get a pair of toothpicks.
Now rock out on the drums! Hey, you're pretty good!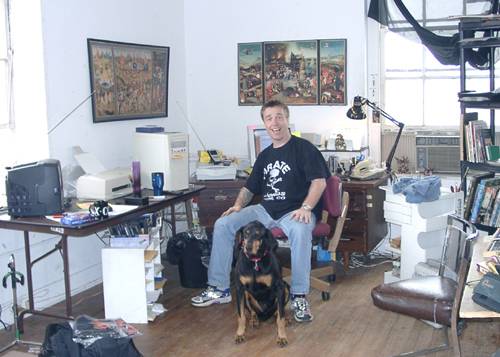 This is fun! Let's play another game. Above is a picture of me and my faithful canine sidekick, Turf!
That's my crappy office we are sitting in.
See if you can find--
1) Guitar stand
2) Dave
3) Dave's shoe
4) Dave's other shoe
5) A dog
6) The Garden of Earthly Delights
7) T.V.
8) Bong
9) The Temptation of St. Anthony
10) Portable T.V.
11) Zip Drive
12) Butt-pack
13) O.k., this is stupid.
BACK TO THE MAIN PAGE

1