DAVE BROCKIE EXPERIENCE
.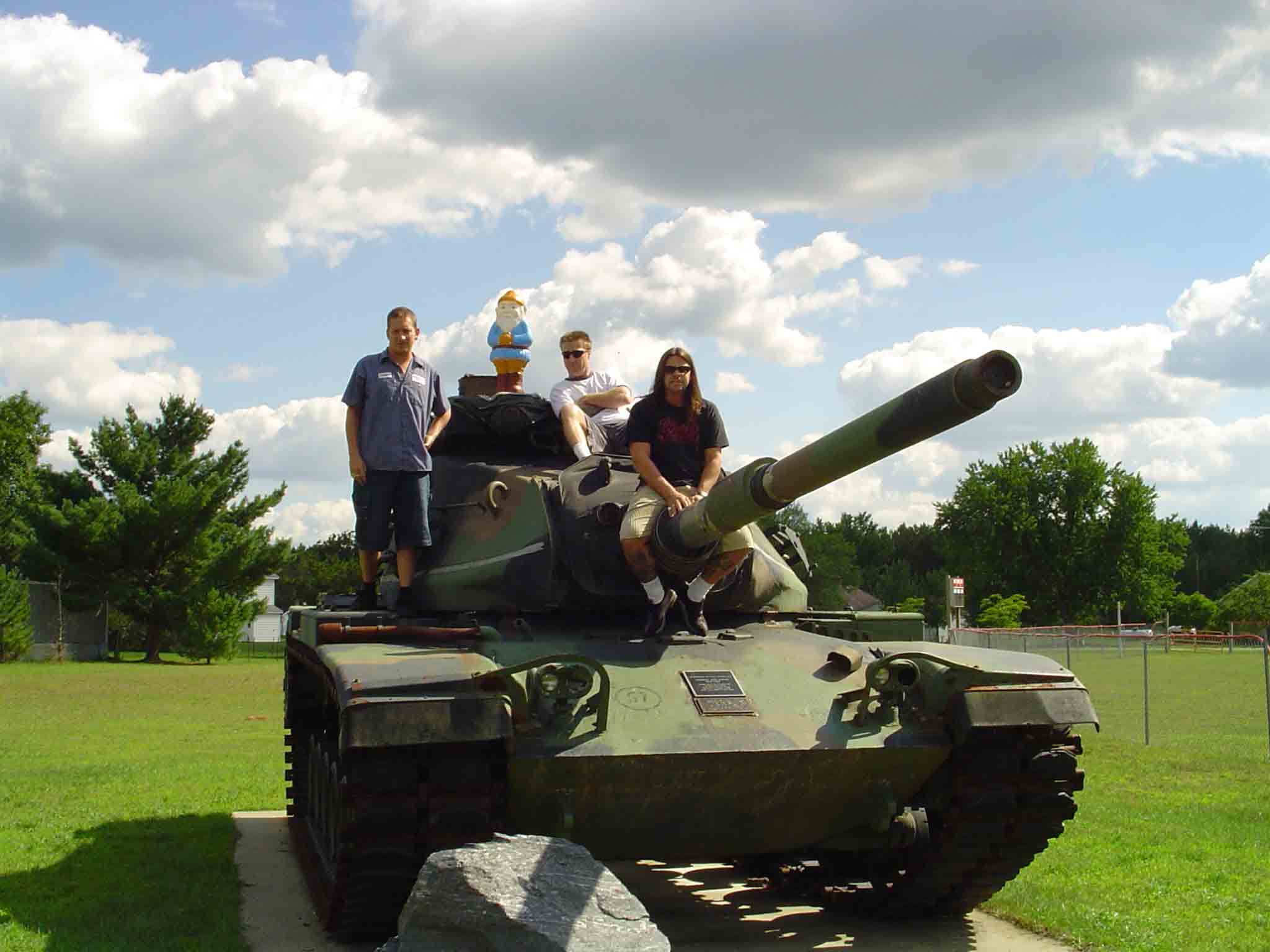 Here's the boys on their last tour (which was a disaster). Also in the frame is their missing "little buddy", Gnoman the Gnome. Gnoman, after surviving an entire tour of beatdowns, managed to escape us on the last show of the tour. He was last spotted in the Roanoke area. Gnoman is a vicious psychopath who is not to be trifled with. Without his medicine, people could get hurt. Please Gnoman, come home...
SHOW DATES!!!!!!!
None right now, we are busy working on the new GWAR album. Oh the constancy of life...there will probably be a X-mas show somewhere,
AND HERE IT IS BECAUSE YOU DARED TO HOPE THE LAST DBX SHOW OF THE YEAR AND MAYBE EVER--
Saturday, December 20th, Banditoes Burrito Lounge
THIS SHOW IS FREE!!!!!!!!!!
and after that let us draw the curtain on the train-wreck that was DBX, and let us be thankful that I am still alive.
---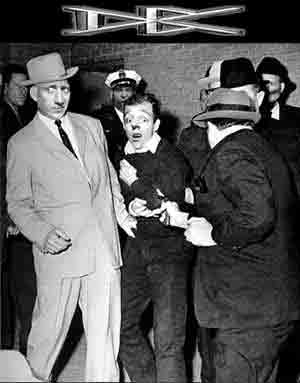 by Chris Bopst
DBX linked to Oswald murder!
THE NEW DBX RECORD "SONGS FOR THE WRONG", IS OUT NOW!!!!!
Beethoven. Glenn Miller. Pavarotti. GWAR. All artists who had one thing in common-- they were too great.
For years, the members of the multiple Grammy-losing group GWAR have endured this curse, somehow withstanding a seemingly endless torrent of accolades and applause in their quest to avoid getting real jobs. But this pressure can no longer be withstood, so three of the musicians behind the masks have stepped forward to create a band with but one purpose-- to suck as badly as possible, in order to erase this misconception of musical mastery that has thus far limited their fan base to art fags and old people. DBX is this band.
Dave Brockie Experience is made up of Dave "Oderus" Brockie (bass and vocals), Brad "Jizmak" Roberts (drums), and Mike "Balsac" Derks (guitar). Much like their predecessors, the Jimi Hendrix Experience, this band fully expects to choke to death on their own vomit. But the motivations behind this outfit go much deeper than that. Brockie feels he must attempt to rip-off GWAR's name for money and sex, as part of a personal vendetta against other GWAR members he feels have somehow "betrayed" him. Roberts enjoys embezzling merchandise funds, while Derks is involved simply to watch Brockie "make an ass out of himself".
Whether he's drinking shots of his own underwear sweat, or tackling a club's Christmas tree while nude, Brockie is sure to do just that. The new DBX record, `Songs For The Wrong` is fast, furious, and fucking hilarious, a blast of fetid air in an all-too fragrant musical landscape. The bands performances are the stuff of legend, and no one can deny that Brockie's head is too big for his body. DBX- quite possibly the silliest experience in music today, and quite certainly the silliest experience in music today.
- James Nasium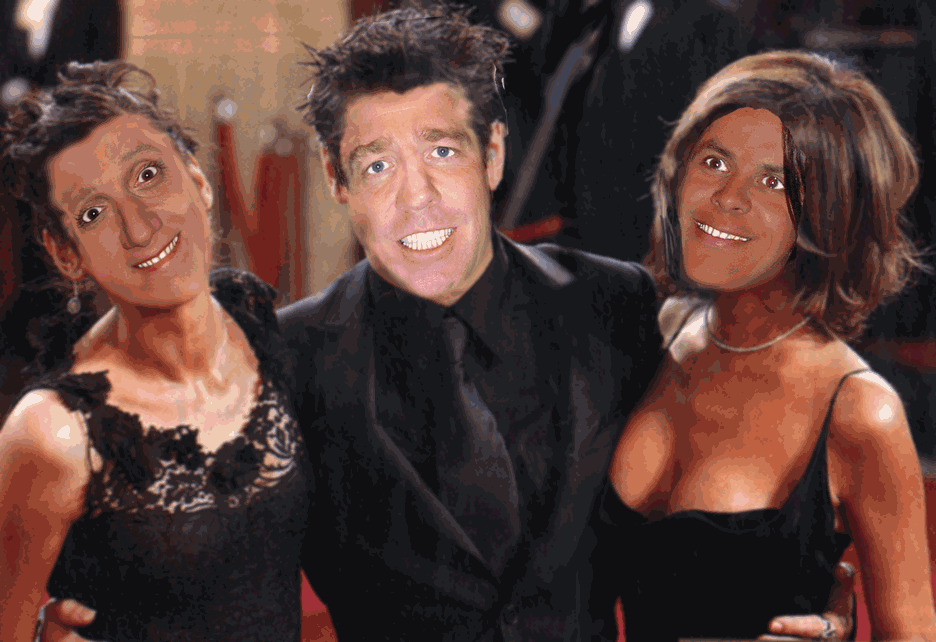 Here's a shot of the "boys" at the recent "Stars With SARS" benefit. Absolutely no money was raised. Here's a list of song titles from the new recording--
Damn That Money
Slowpoke
Should the Ugly Girl Blow Me?
The Chinese Have No Cheese
Music is like Beer
Hard For a 'tard
I Wanna Be a Squirrel
Shatilla
He's Going Crazy!
Make Money Off Your Friends
Dog Log
Slips of Paper
March of the Faggot Soldiers
Hey Buddy
Medieval Werewolf
Churchmouse in the Snow
Isn't it Grand Boys?
Here's a rare shot of the band right after Derks had come home from Vietnam
Go to gwar.net for some song downloads!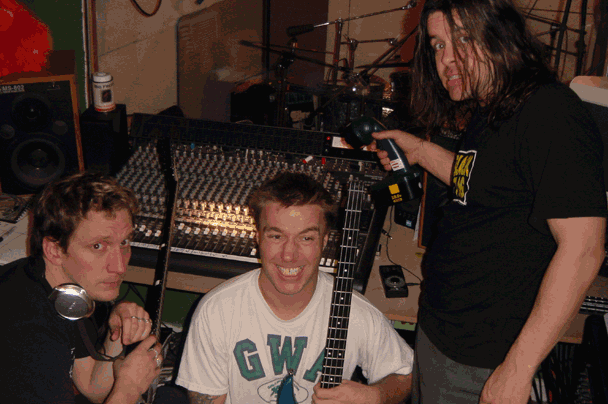 Here we are in the studio working on our new album "Songs For the Wrong". Well, we're not working on the album at that exact moment but we were, just a few minutes before this picture was taken.Well, actually, taking pictures is part of the whole creative process of making a record, so I guess it is working on the album. No, it isn't. Anyway many of the old cast of hooligans are involved with this record. Of course there where a couple of guys who got fired but not by us, I'm talking about the sandwich shop down the street. The illustrious and almost unknown Adam Green (who worked on Hello and D.O.A.M) is helping with the production, Cory Smoot is our engineer, and Grant Rutledge over at Montana is mixing and mastering. We've got a pretty good system worked out--you'd expect no less after doing this shit for 15 years!!!!! With songs like "Should the Ugly Girl Blow Me", and "The Chinese Eat No Cheese", this album is guaranteed to be at least half as funny as the last one. See if you can spot part of the orange mini-beast and the can of stewed fish assholes. I don't know if we can top "Calling Dr. Fong" but we're gonna give it our best shot!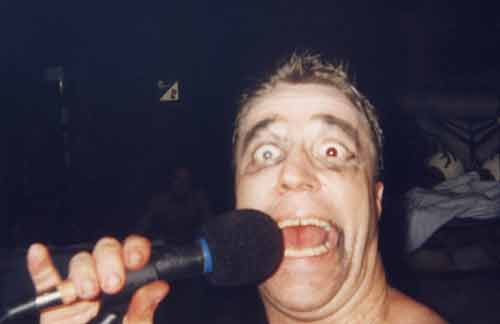 Is the name of yet another Slave Pit Inc. side project. This band formed
in 1999 out of the ashes of O.L.D (Obnoxious, loud, and drunk).
I play bass and sing, and I am joined by Mike Derks
of GWAR on guitar, and Brad Roberts, also of GWAR, on drums! But that's
where any similarity to GWAR ends, except for the fact that we do play some
GWAR songs and totally rely on GWAR's reputation in order to get us gigs. Plus
we use their equipment and practice space, but hell, we ARE GWAR for gawds
sake! It's a sad thing when you have to rip off your own band in order to avoid
getting a telemarketing job. But I'll do it, because I have no shame. Anyway, this
band has gone by several names and you never know what to expect at a DBX
show except that it will be LOUD. If you enjoy the music of Death Piggy, X-Cops,
or GWAR, then check out DBX! Our debut album, "Diarrhea of a Madman" is available
on Metal Blade records or you can order it at gwar.net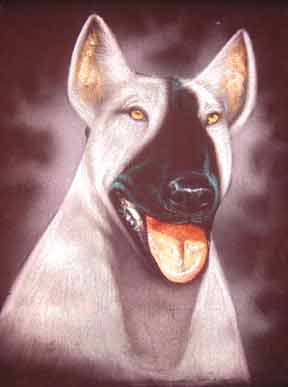 "The Duke"
This icon represents "The Duke" the patron saint of DBX and indeed of drunks everywhere.
The black-felt painting format can scarcely do the Duke justice but nevertheless we take it to all our gigs.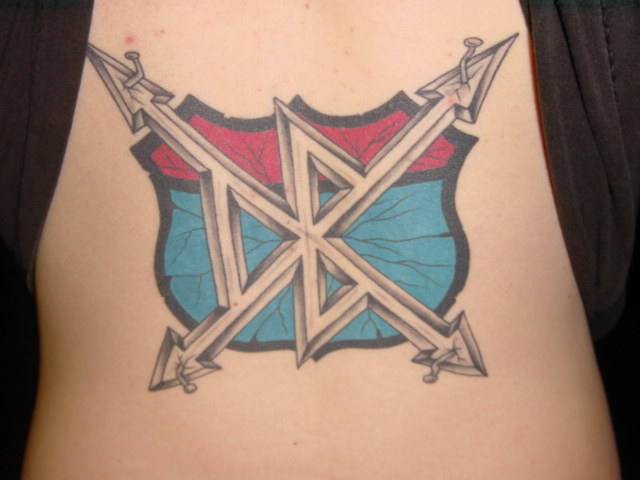 Look at this tattoo! Hope you like us for a long time.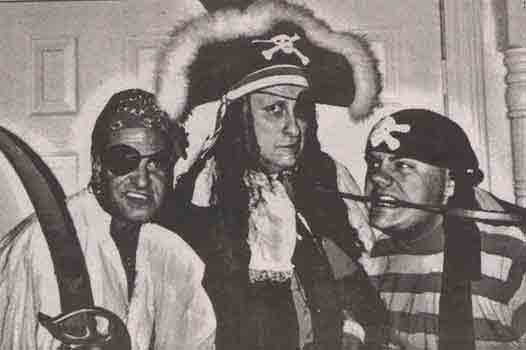 We all continue to be amazed by the many talents of GWAR/DBX/X-Cops guitarist Mike
Derks. Here we see him reprising his role as Captain "Black" Jack McMacinnernenarilly
in the Fire Island Glee Club production of "The Pirates of Pez-Ass". Kudo's Mike, hope
you can find time to do the GWAR tour!
Hello there. Stand-by for an official DBX announcement. It's out! And it's
one of the most insane records ever recorded. Thats right, DBX's debut
release, "Diarrhea of a Madman" is out! But just because it's out and you
want it, don't expect to be able to buy it. You may have to cajole, harass,
and perhaps even threaten your local rcord store owner into getting it.
Failing that you can order it from GWAR.net. Pick
up a DBX t-shirt while you're at it!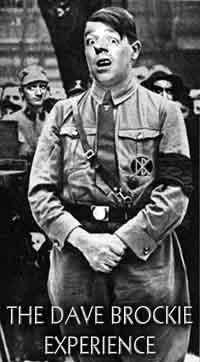 This is a shot from last year's annual "Kill the Nazi's" festival. We firmly stand for the
rights of people that dress up like Nazi's but really aren't. As long as they kill the real
ones.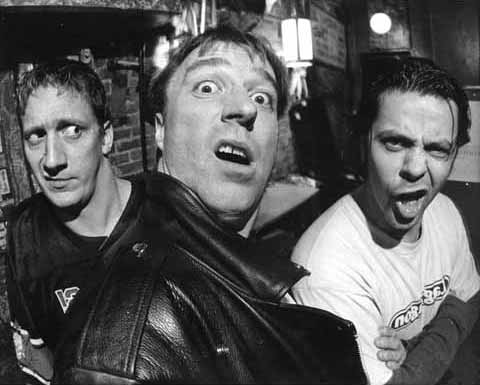 photo by Chris Radok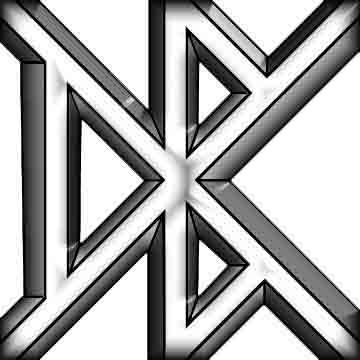 This is our "symbol". You may notice it is a total rip-off of the DK "symbol". Maybe Jello
will sue me. That would be COOL.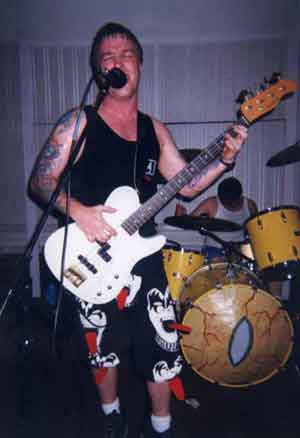 Check out these pants! They were made by Tim Gore, and
only two pairs exist in the entire world (the other pair is
owned by Tesco Vee, who once turned down Gene Simmon's
request to buy them right off his ass! Album, "Diarrhea of a
Madman", out now on Metal Blade Records! Buy!