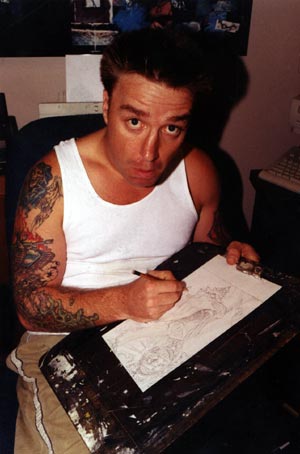 That's right folk's it's the Dave Brockie "trade your worthless money for my valuable art" page! The page where ME, Dave Brockie, notorious malecontent, peddles my hasty scribblings for outrageous heaps of cash. I've created this page to keep track of the work, let the people who bought the work see their piece displayed, and finally to convince you to depart with some of your hard-earned cash and buy my shit! Hurumph!
People seem to like hanging my shit on their walls, and sometimes they will even put paintings there! So I'm always (never) available for custom commissions (paintings, album and magazine covers...etc.), affordable prints of classic GWAR/Brockie work, costume pieces, tattoo design, and much, much less! The pricing is affordable, and all pieces are sure to be worth a lot more after my tragic fatal crack binge (coming soon, so order now). Work generally takes anywhere from 5 mintutes to several years, depending in how drunk I am. Just email me directly at maggotmaster13@gmail.com. Business only please!!!!!
Here's a bunch of stuff I made fer folks, make sure you scroll all the way down!