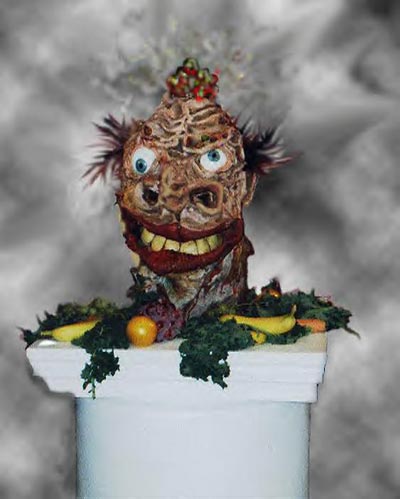 WITH YOUR HOST,
ANTON REEMCOBB,
POET, LAUREATE,
AND AMBIGUOUS DISEMBODIED HEAD.
Solicitation's, cave-dwelling crustations! You now grovel in the thrall of your gentle lord, devotee of life sublime, ANTON REEMCOBB, sewer-dwelling bottom-feeder and aficionado of only the snootiest forms of crappy art. The current exhibition highlights the work of one "Dave Brockie", a name inexorably linked to artistic meanderings of the most asinine, obvious, and untalented variety. Here you will find much of the squiggly-lined, overly-worked, and generally self-indulgent drivel that this so-called "artist" occasionally manages to let seep out his rancid ego-sac, usually while under the influence of drugs which no doubt delude his senses to the point where a turd is akin to manna. What else could explain the painfully obvious conclusion I gleefully leap to--you sir, are an untalented boob, but worse still you are an untalented boob who is convinced you are something more than an untalented boob. And for that, you are truly a wretch.
All of these prints are available in a high-quality, limited editon format, signed by the F-artist and delivered to your door by one of the tree-sloth people. Now I must return to what I do best--belittling and disempowering those more talented but less erudite than myself.
Click on any image below to see a bigger version (you cretin).
"The Future of Punk"
2003
pen and ink

"Death, Sex, Booze, Drugs, Satan..."

2003

Acrylic on Board

(private collection in Australia!)

"Roadtrip to Providence"

Pen and Ink, 2003

Cover for "In the Van", coming soon from FNS Publishing

"Captain Groggy"

2002

Acyrlic on Board

(Private Collection)

"Vomiting Navigator"

CG noodle art at it's finest. Get a bunch of 'em and wallpaper your bathroom.

"Discovery of Jizmoglobin"

1994-2001. Oil on board. I started this painting for "Toilet Earth" and it quickly became apparent that it would take years to finish. But I finally did. The level of detail is pretty intense--has to be seen to be believed.

"Boil-Letters"
1999. CG using color scans of pustules. Done for the "WKE" album art. Very high rez--looks great printed big.

jizmo odie detail

"Oderus"--another detail.

"Techno, Jizmak, Weird Guy and Flopsy"You guessed it! A detail!

"Burning Church"--detail from "The Discovery of Jizmoglobin"

"Calling Dr. Fong"
CG

"Servant of Death's Head"
CG

"Flesh Column"
Pen and Ink

"Yg"
CG

"Uncle Pumpy"
Pen and Ink

scary head image

"Seething Head"
CG